Overview
Achilles tendonitis is inflammation of the tendon, usually resulting from overuse associated with a change in playing surface, footwear or intensity of an activity. The Achilles tendon is surrounded by a connective tissue sheath (paratenon, or 'paratendon'), rather than a true synovial sheath. The paratenon stretches with movement, allowing maximum gliding action. Near the insertion of the tendon are two bursae - the subcutaneous calcaneal and the retrocalcaneal bursae.

Causes

Tendinitis most often occurs when a tendon is over used. As the foot extends the Achilles tendon engages the calf muscles. The calf muscle generates force, which is transferred to the foot via this tendon. As this action repeats the tendon will endure large amounts of stress. An under-trained or inexperienced athlete is most likely to be affected by tendinitis since their body is not accustomed to the stress involved with athletics. Improper foot mechanics is another common cause of Achilles tendinitis. A properly functioning foot will distribute weight evenly across the foot. On the contrary, if the foot is experiencing improper mechanics, the weight of the body will not be evenly distributed. This can result in tendinitis, plantar fasciitis, calluses, bunions, neuromas and much more.

Symptoms

Achilles tendinitis symptoms present as mild to severe pain or swelling near the ankle. The pain may lead to weakness and decreased mobility, symptoms that increase gradually while walking or running. Over time, the pain worsens, and stiffness in the tendon may be noted in the morning. Mild activity may provide relief. Physical exam may reveal an audible cracking sound when the Achilles tendon is palpated. The lower leg may exhibit weakness. A ruptured or torn Achilles tendon is severely painful and warrants immediate medical attention. The signs of a ruptured or torn Achilles tendon include. Acute, excruciating pain. Impaired mobility, unable to point the foot downward or walk on the toes. Weight bearing or walking on the affected side is not possible.

Diagnosis

Examination of the achilles tendon is inspection for muscle atrophy, swelling, asymmetry, joint effusions and erythema. Atrophy is an important clue to the duration of the tendinopathy and it is often present with chronic conditions. Swelling, asymmetry and erythema in pathologic tendons are often observed in the examination. Joint effusions are uncommon with tendinopathy and suggest the possibility of intra-articular pathology. Range of motion testing, strength and flexibility are often limited on the side of the tendinopathy. Palpation tends to elicit well-localized tenderness that is similar in quality and location to the pain experienced during activity. Physical examinations of the Achilles tendon often reveals palpable nodules and thickening. Anatomic deformities, such as forefoot and heel varus and excessive pes planus or foot pronation, should receive special attention. These anatomic deformities are often associated with this problem. In case extra research is wanted, an echography is the first choice of examination when there is a suspicion of tendinosis. Imaging studies are not necessary to diagnose achilles tendonitis, but may be useful with differential diagnosis. Ultrasound is the imaging modality of first choice as it provides a clear indication of tendon width, changes of water content within the tendon and collagen integrity, as well as bursal swelling. MRI may be indicated if diagnosis is unclear or symptoms are atypical. MRI may show increased signal within the Achilles.

Nonsurgical Treatment

The initial aim of the treatment in acute cases is to reduce strain on the tendon and reduce inflammation until rehabilitation can begin. This may involve, avoiding or severely limiting activities that may aggravate the condition, such as running or uphill climbs. Using shoe inserts (orthoses) to take pressure off the tendon. Wear supportive shoes. Reducing Inflammation by icing. Taking non-steroidal anti-inflammatory drugs. Heel cups and heel lifts can be used temporarily to take pressure off the tendon, but must not be used long term as it can lead to a shortening of the calf. Calf Compression Sleeves. Placing the foot in a cast or restrictive ankle-boot to minimize movement and give the tendon time to heal. This may be recommended in severe cases and used for about eight weeks.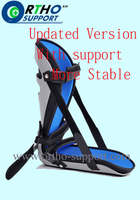 Surgical Treatment

Surgery usually isn't needed to treat Achilles tendinopathy. But in rare cases, someone might consider surgery when rubbing between the tendon and the tissue covering the tendon (tendon sheath) causes the sheath to become thick and fibrous. Surgery can be done to remove the fibrous tissue and repair any small tendon tears. This may also help prevent an Achilles tendon rupture.

Prevention

Achilles tendinitis cannot always be prevented but the following tips will help you reduce your risk. If you are new to a sport, gradually ramp up your activity level to your desired intensity and duration. If you experience pain while exercising, stop. Avoid strenuous activity that puts excessive stress on your Achilles tendon. If you have a demanding workout planned, warm up slowly and thoroughly. Always exercise in shoes that are in good condition and appropriate for your activity or sport. Be sure to stretch your calf muscles and Achilles tendon before and after working out. If you suffer from Achilles tendinitis make sure you treat it properly and promptly. If self-care techniques don?t work, don?t delay. Book a consultation with a foot care expert or you may find yourself sidelined from your favourite sports and activities.